5 Common Examples of In-Mold Decoration by Using Decorative Films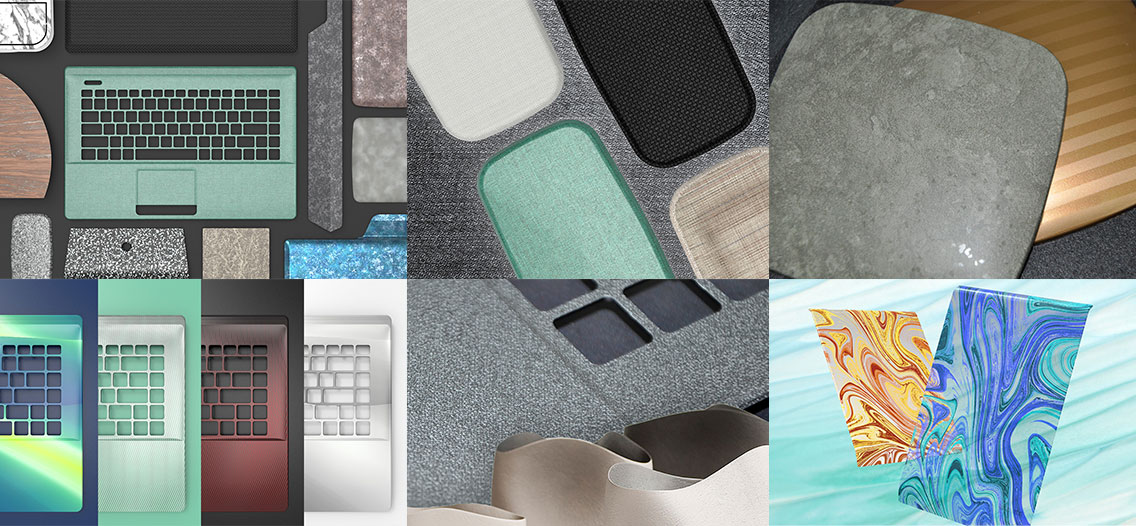 What is In-Mold Decoration ?
IMD In-Mold Decoration is one of the new technologies for plastic surface decorating. It combines surface resistance and robustness with individual and attractive designs in a single process. Its environment-friendly process is also the best alternative to electroplating, painting or printing.
Cost-Saving In-Mold Decoration for Plastic Decoration
When manufacturers consider providing differentiated plastic products, most of them are looking at some options, including coating lines, painting lines, chrome plating lines, or water transfer printing lines. However, they are with higher capital expenditure with larger floor space commitment. The In-Mold Decoration using decorative foils or laminates which add only the cost of the films. Adding extra In-Mold Decoration or In-Mold Decoration Films requires only a small amount of capital.
Decorative Films for In-Mold Decoration Injection Molding
The IMD In-Mold Decoration Process typically uses a polycarbonate or polyester film or foil. Selective matte, gloss or textured finish is printed on the first or outer surface of the film, and another printing on the second surface, which provides extra protection. Then, the In-Mold Decoration Film is created. Afterward, it needs to be trimmed and placed into the mold for injection. In recent years, In-Mold Decoration has been employed by many industries in a wide range of applications.
In-Mold Decoration Examples and Applications
In-Mold Decoration is used widely, examples including dashboards, touch controllers, door trims and handles, audio panels, mobile phones, laptop shells, desktop computers, in-wall switches, handheld game consoles, computer mouses, sweeping robots, air purifiers, air conditioners, blood pressure monitors, blood glucose monitors, and much, much more!
Automotive Parts
The In-Mold Decoration Technology is commonly used in automotive parts, such as dashboards, touch controllers, backlit door trims, illuminated door trims and handles, welcome pedals, and car audio panels. Many automotive parts have used Film Insert Molding to increase products' appearances. The new surface decoration technology makes the automotive interior designs look exceptionally finished.
Read Also:" Guides to Film Insert Molding for Automotive Interior Decoration"

Consumer Electronics
The aesthetic looks on electronics can be just as beautiful! Finishing touches can be as thin as hair, providing both function and design. It is very easy and efficient using In-Mold Release(IMR) to decorate consumer electronics. Common products with this new plastic surface decoration include mobile phones, laptops, desktop computers, in-wall switches, handheld game consoles, computer mouses and tablets.


Read Also : Recent Advances of the In Mold Decoration - Antibacterial Surface Design for Laptops


Home Appliances
In-Mold Decoration gives unrestricted choices of surface finishing. It can be high gloss, black piano finish, metalization or even have a wood-look. The mix of look and feel make home appliances look avant garde. Some examples are sweeping robots, air purifiers, air conditioners, electric kettle bases, smart doorknobs, remote controls, washing machines, electric cookers.


Medical Industry
In-Mold Decoration is also used in the medical industry's manufacturing processes. Among the key advantages of the plastic surface decoration process to medical devices are its ability to meet the image of high quality and functional design. Examples are blood pressure monitors and blood glucose monitors.


Sports Equipment
As noted above in the automotive and electronic parts industries, the method of In-Mold Decorating is used to enhance the panel of sports equipment, making these products more eye-catching and efficient to produce. Some examples are treadmills, exercise bikes, and ellipticals.


In-Mold Decoration Design Trends
In-Mold Decorating is used to add decorative or branding touches to plastic devices or components. Any type of plastic injection molding parts can benefit from its advantage of One-Step Production and Decoration & Visual and Haptic Effects. There is no secret that many plastic products use labeling. Product labels and decoration play an important role in the success of those products. In-Mold Decoration Design is more important than ever. Here is a list of design trends and guidelines for In-Mold Decoration.
Partial matte

Swirling glaze

Silky touch, soft touch

Anti-fingerprint

Haptic effects

Radiolucent

Grating effect

Anti-glare surface

Holographic waves

Electric circuit

Touch screen panel
In-Mold Decoration Film Supplier
At Sentien, we have extensive experience with In-Mold Decoration and In-Mold Films, Inks, Processes and Materials, and We have been the partner and film supplier for many brands from various industries worldwide. Our partners can expect low labor cost and low scrap rates, and expert design and engineering support throughout the plastic surface decorated product development, production and fulfillment stages. Please contact us today.
For more plastic injection molding in-mold decoration films, please check out the related blog articles or product pages.